Testimonials
We will save you time, money and mistakes on your next boat.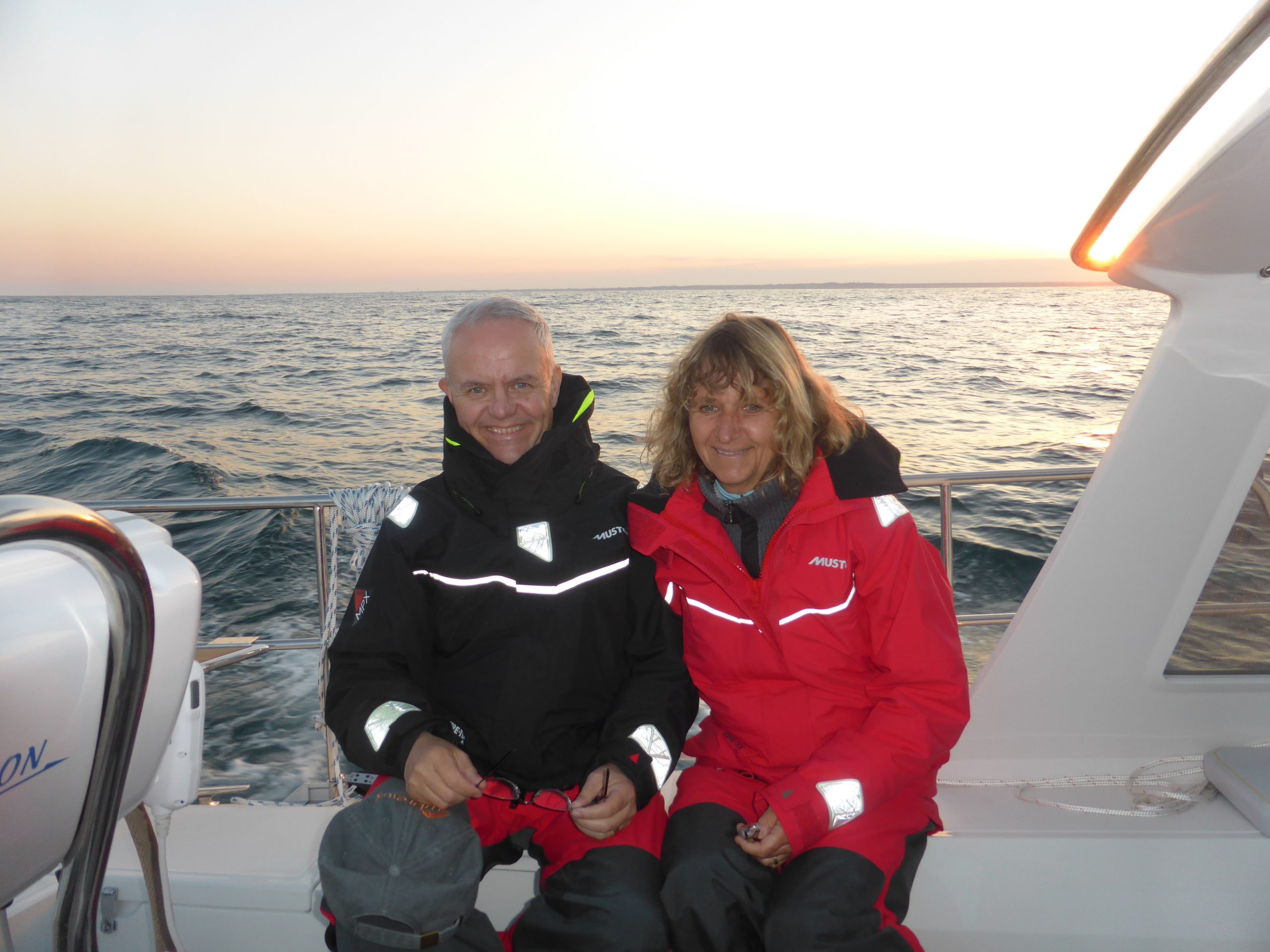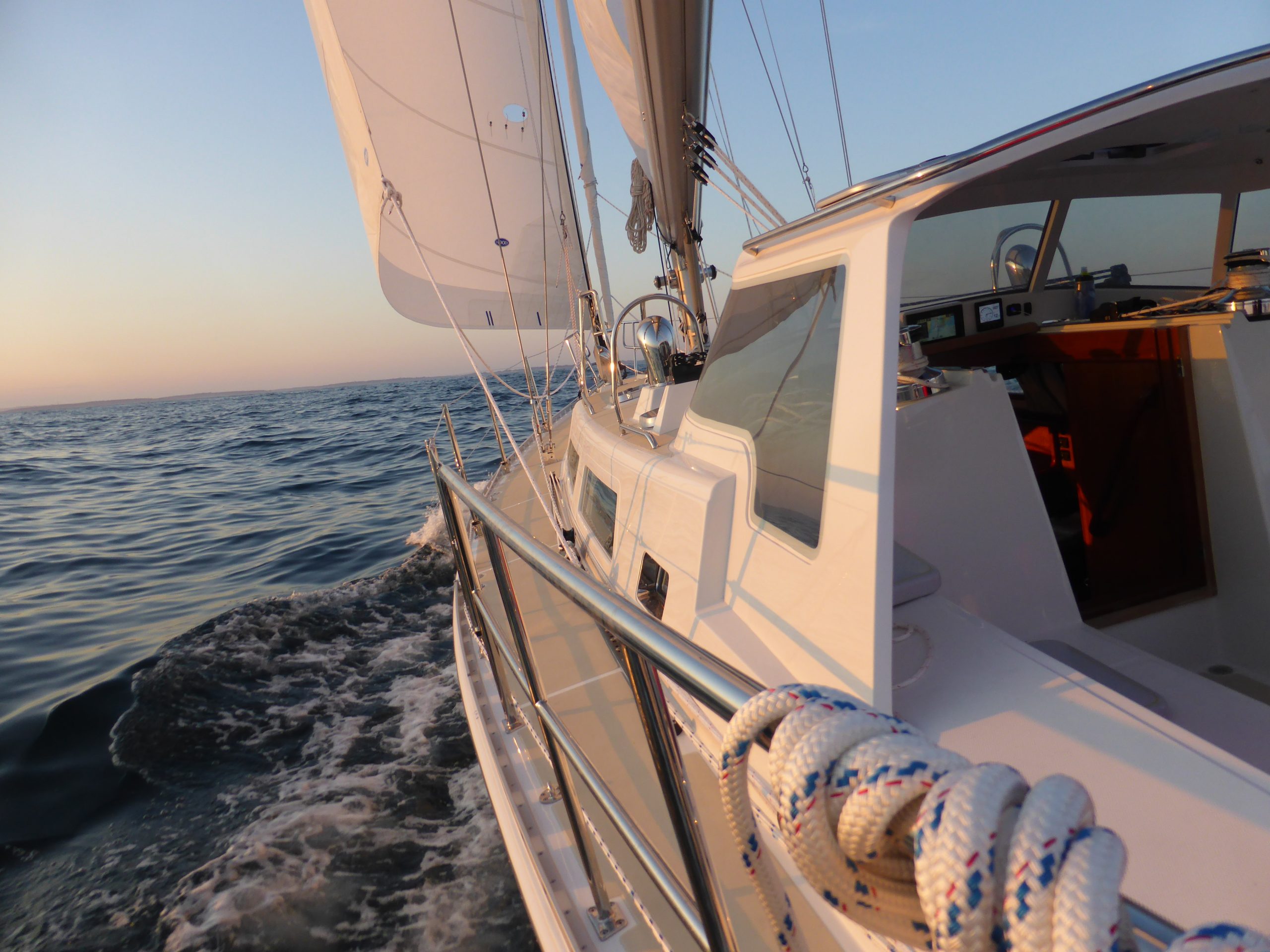 Going through the decision process of buying a boat, new or used, is huge. Moreover, finding someone that is truly helping you through that process, with a genuine interest of you being satisfied in the end is hard. We met Josh and Anchor Yachts at the Annapolis boat show 2016, and it was obvious from the beginning that he is a good listener, a person that took the time to understand our situation, our values and what we were trying to find. His balanced advice and the way he is sharing his experience is second to none.
Our need and unwillingness to compromise on what we wanted led us to order a new Outbound 46, Hull #67 HORIZON. The interesting thing is that when our purchase of HORIZON was done, that is when Josh's value accelerated and excelled. No question or request for information was too much for him, and he continued to add a ton of value through the building process and commissioning. Even after the delivery, it feels like Josh is equally happy, engaged and enthusiastic in our boat as we are.
If we ever buy or build a boat again, we will go nowhere else than Anchor Yachts, and are happy to talk to anyone that want a reference.
Anders and Anette
Outbound 46 #67 "HORIZON"
Follow them on their blog: https://sites.google.com/view/horizon-outbound46/home-blog
————————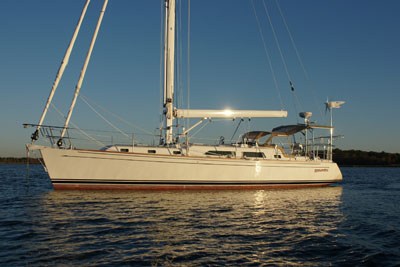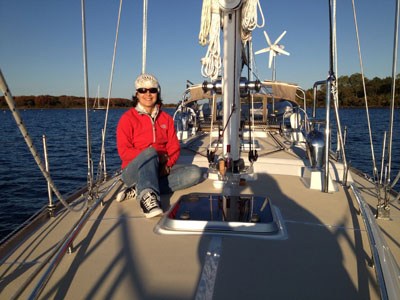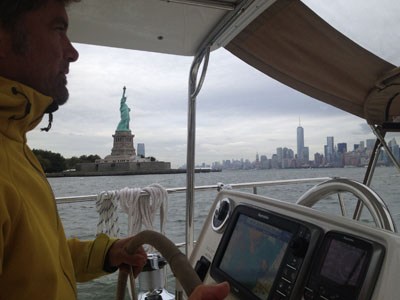 We met Josh at the Annapolis boat show while contemplating a purchase of our second boat. It was a coincidence that doesn't happen very often, and it was the best luck we can imagine.
We had already set our minds on a competitors boat, but after only minutes with Josh it was clear we would be taking a different direction than originally thought. His knowledge and approach to the design and systemization of the boats he represents is an uncommon advantage for the buyer. Therefore, we quickly changed course.
But more importantly, it is the time after the configuration, commissioning, and delivery that continues to delight.
Josh and his wife, Tiff, work together to bring the boat and the new owners to a level of intimacy and comfort that would not be possible with other dealers. His motto is "the relationship doesn't stop at delivery", and he is serious about it.
Josh and Tiff are great people, great for the industry, and great to know. We consider ourselves very lucky to have met them, and very lucky to have purchased our boat through them.
Kurt and Tina
Outbound 46 #52 "pneumatic"
Follow them on their blog: http://www.pneumaticsailing.com
————————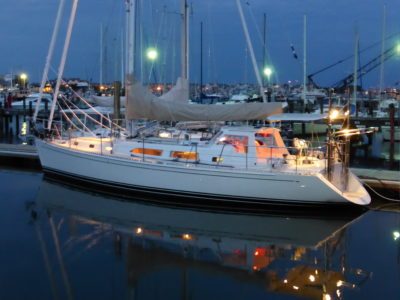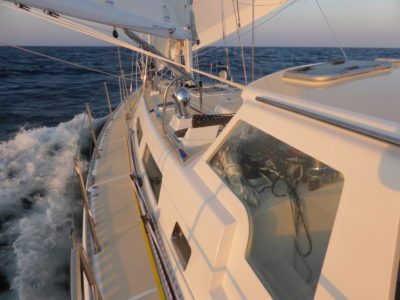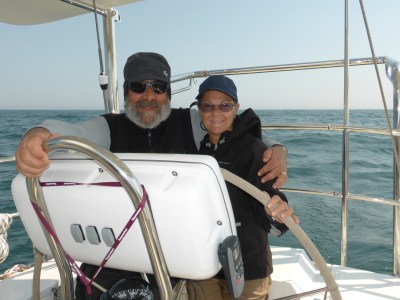 After multiple boats finally got the chance to build the " last boat ". After research we knew it needed to be an Outbound. Josh was infinitely patience as the requirements and details to build a voyaging home for us came together. He and Phil shared their experience and wisdom to an extent I had never previously experienced. Nor have they forgotten us even after the boat was launched. Everything that wasn't absolutely perfect has been progressively addressed. We asked for little things like reworking grab handles at the companion way. They even totally redesigned the mast pulpits to accommodate Cheryl's small stature. If you have an idea or a need they will work it though. You end up with a great sailing, strong vessel and have the joy of working with an incredibly skilled and pleasant team.
We are for ever thankful we choose Josh to make our dream a reality.
Lee and Cheryl
S/V Hippocampus – Outbound 46 #50
————————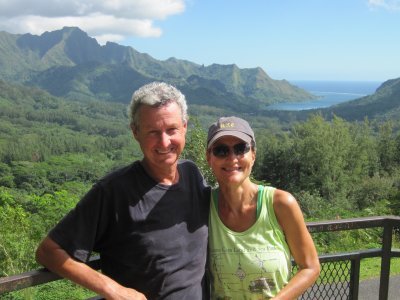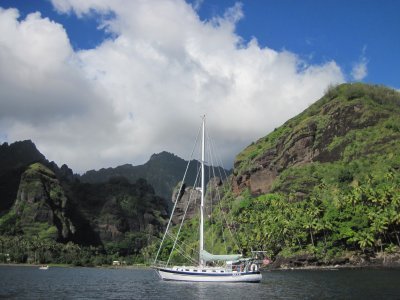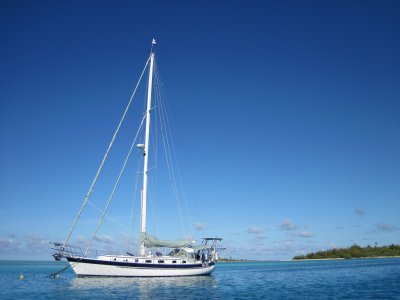 We first met Josh Hodgson at the Newport boat show in 2006. After working with Josh, we made the decision to buy Kite, our Valiant 42, through Anchor Yachts at the Annapolis show later that fall and commissioned her in October, 2007. We liked Josh immediately, and have found him to be honest, trustworthy and thoroughly dedicated to serving his customers. He is an excellent sailor with a thorough knowledge of boats and boat systems. He went above and beyond in helping us design and commission Kite, which we have now sailed from our home port of Portland, Maine to the Bahamas, Caribbean, Colombia and the Panama Canal, then across the Pacific to the Galapagos, French Polynesia, Tonga and New Zealand. We are now in Fiji and plan to continue heading west. It's been five years since we took delivery of Kite, and Josh remains an invaluable resource to us wherever we are. We have found the Valiant reputation as an excellent bluewater passage maker to be absolutely true. Kite is the right boat for us.
When we bought Kite, Josh listed our previous boat for sale. He sold her within weeks to an English cruising couple, and she was off across the Atlantic to her new home near London the following spring. He did a great job marketing her and providing information to potential buyers, all with a smile on his face and without being pushy or overbearing as some boat brokers can be. We were thrilled with his service and have since recommended him and Anchor Yachts to friends.
Since we bought Kite, Josh and his wife Tiffany have become friends – as they do with many of their customers, perhaps the strongest endorsement of all. We cannot recommend Josh highly enough whether you are considering a sale, purchase, or simply want to talk to someone knowledgeable whom you can you trust about the possibility of buying or selling a boat. We were fortunate that our paths crossed when we were in the market for a new boat.
Jack and Zdenka G.
s/y KITE – Valiant 42 #178
————————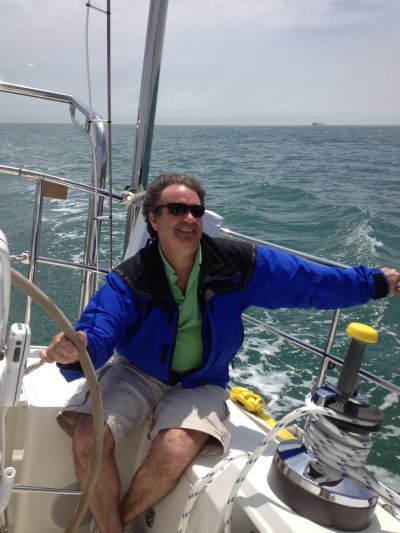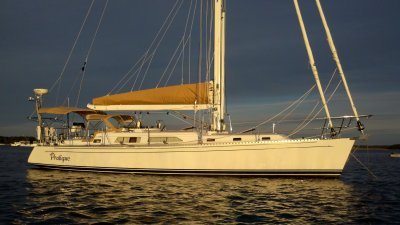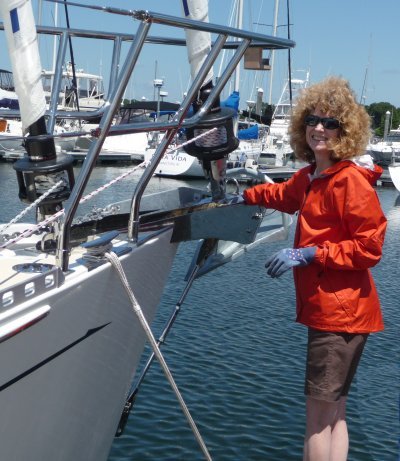 When committing to building a semi-customized yacht like the Outbound 46, we knew that we needed to rely on an experienced team. What we didn't know is how quick it would be for us to feel completely at ease with our choice of Outbound, and Anchor Yachts.
Josh Hodgson was perfect from Day 1 in his role as the local representative for Outbound. He has a unique ability to provide fresh ideas and suggestions throughout the process–We often joked that he must have been born with a gift of attention to detail! And well after delivery of our new boat, Josh has demonstrated an ongoing commitment to customer service and to owner satisfaction that is unsurpassed!
Whether selling or buying, whether looking new or used, we give Josh and Anchor Yacht and Ship Sales our highest recommendation!
Bennett & Susan K. – Outbound 46 "Pratique"
Follow them on their blog: http://outbound46pratique.blogspot.com
————————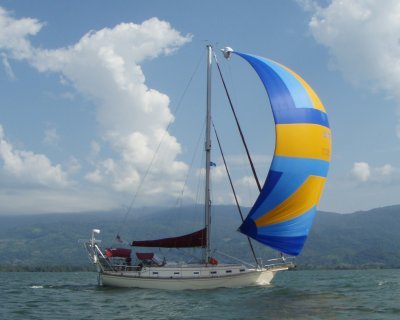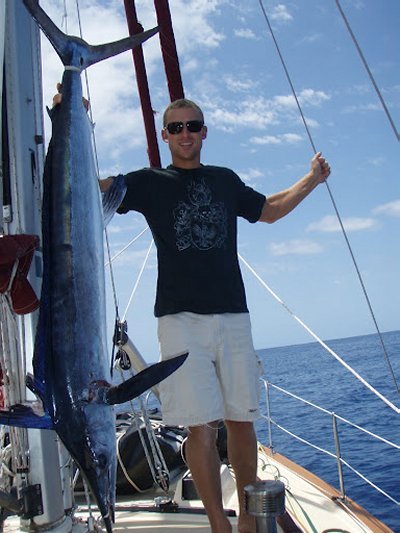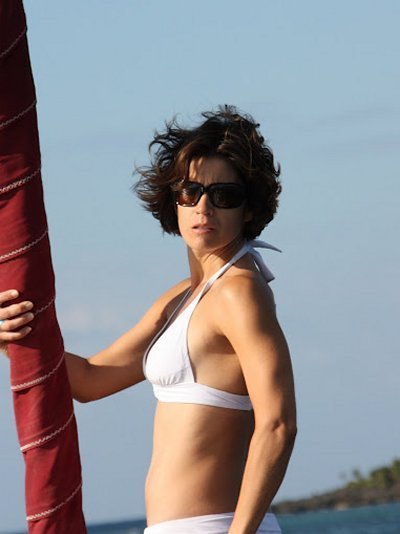 If it weren't for Josh, we'd have bought the wrong boat. Even with my 30 years of sailing experience, it was Josh's experience and advice that prevented me from making an offer on a boat that in hindsight would have been a disaster, and instead helped guide us to the perfect boat. Josh's knowledge, experience, honesty, and integrity are all beyond reproach. If you are buying a boat, it would be foolish not to have Josh at your side.
Kevin & Lizz – Island Packet 40 "Cielo"
Follow them on their blog: http://www.sailingcielo.com
————————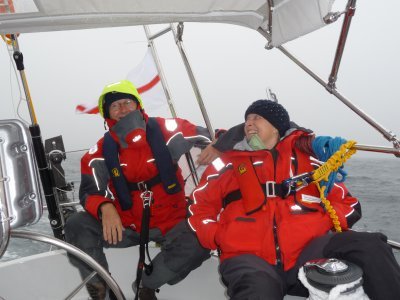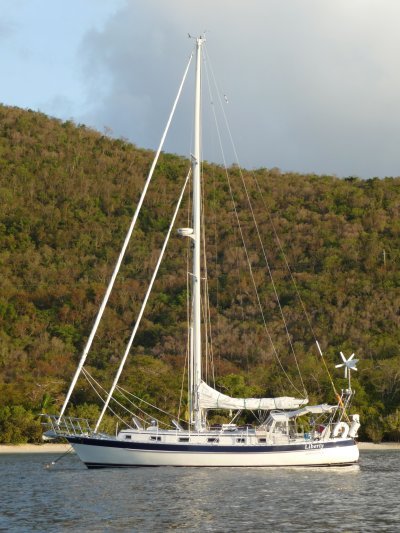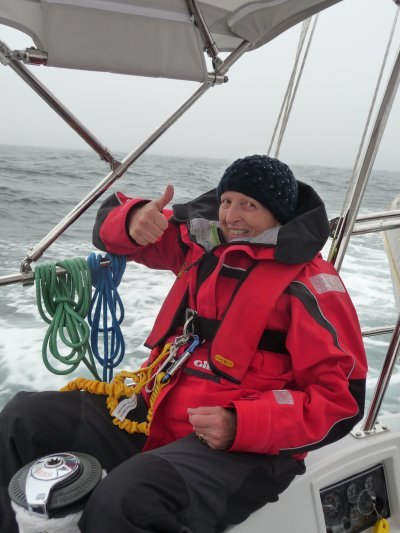 Late in 2010, Els and I began our search for a new cruising sailboat we loved our Pacific Seacraft 34 but we wanted a bit more room and we wanted a new boat in time for the 2011 season in New England. The Valliant's, along with HR's and Pacific Seacraft's have always been on our short list. AYSS had a very nice Valiant 50 on the lot – however 50′ was a bit more boat than I was willing to handle. Josh informed us of a Valiant 42 that was in production and could be available in time for the season – this fits the bill. However, the most important element was the knowledge, time, understanding and commitment that Josh brought to the table. During the negotiations Valiant announce that they would be ceasing further new vessel production…. this was and in fact remains a concern but again the earnest and continued commitment on Josh's part has ameliorated those concerns.
Since our purchase we have not been completely satisfied with the Valiant factory, but more than satisfied with Anchor Yacht & Ship Sales. Liberty our Valiant 42 -187 – the last Valiant was commissioned in June 2011 and she has seen over 3000 off shore miles from Halifax to St.Thomas and Bermuda, often with Josh as Delivery Captain or crewing as Watch Captain. In July of last year, less than a month after taking delivery, we entered the Marblehead – Halifax Ocean Race, with Josh on board, as our off-shore 'shake down' cruise. That spoke volumes in terms of dealer confidence and competence.
Dick & Els S. – Valiant 42 "Liberty"
————————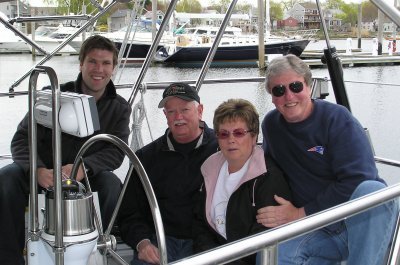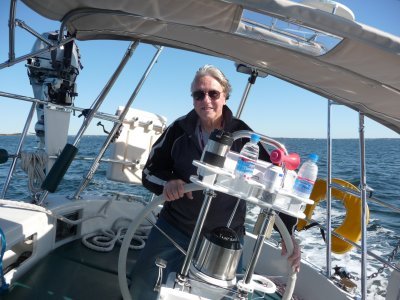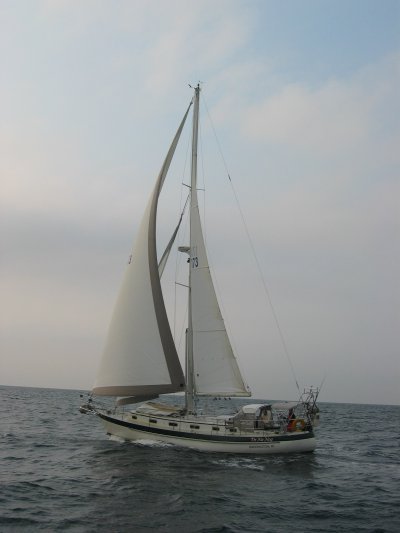 Josh It's a welcome opportunity to offer you a well deserved " I couldn't have done it without you" pat-on the back. You are truly a sales and boating professional and a compliment to the Valiant Family theme.I have become one grateful boat owner and a much improved sailor based on all your timely friendship, knowledge and sailing support. If ever I am to make a future substantial purchase, I hope you are selling what I'm looking for. Your INTEGRITY SPEAKS for it's self. Best wishes for you & Tiffany with all your future adventures.
Fair Winds, Calm Seas
Ed& Val – Valiant 42 "Tir Na Nog"
————————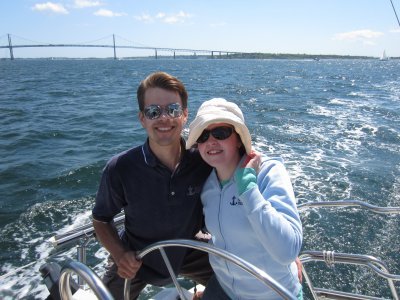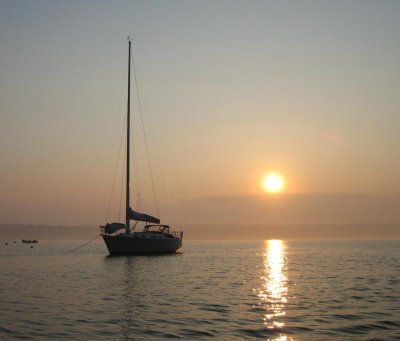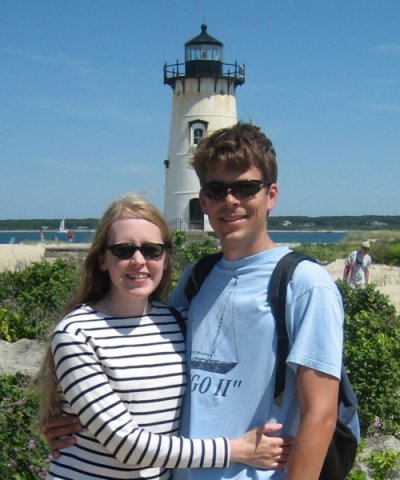 Thank you for the opportunity to explain our experience with Anchor Yacht and Ship Sales. We were looking for a boat to be our first home when the housing market was unreachable for us. My father met Josh Hodgson and he gave us detailed printouts, advice and time without even asking to be our broker. We decided that his wisdom would be helpful to us and asked him to help us in the search. He joined us in after office hours boat showings, gave us advice on different boats and information on what similar boats actually sold for. He looked out for us when the boat we finally found matched our needs, but had some problems. He was there for the entire survey, and helped the surveyor find some problems. He helped us negotiate a good deal, and worked to protect us, warning us about a questionable broker (who later lost his license). He continued to go above and beyond, helping us with advice on work, marinas and actually pitching in during a couple of projects.
We have also the opportunity to live at the boat yard where Anchor Yachts operates, which has given us the opportunity to watch him working with many buyers, sellers, power boats, sail boats and different personalities. Josh, and everyone there, consistently goes out of their way for each client.
Many of his clients have become friends for years, sending photos from their journeys or just showing up, knowing they will be welcome.
We are coming into our ninth year living aboard and I would not hesitate to recommend Anchor Yachts to my friends and family. It is the only company we will use if we decide on a change in boats.
Smooth sailing,
Jeremy & Kendra – Freedom 38 "Liberte"
————————
Josh Hodgson has earned the respect of both my wife and I as our offshore sailboat and boat systems consultant. Josh convinced Tanya and I to move up our cruising plans to a higher priority and he helped us manage a very successful boat design & build project with Valiant Yachts in 2009. Our Valiant 42 Minx was a pleasure to build and outfit with Josh's guidance and ocean-tested recommendations. And Minx has exceeded our expectations in a comfortable and fast blue water cruising sailboat. Tanya and I have become a loyal part of the Anchor Yachts Family of Valiant Yacht owners and Outbound Yacht owners. Josh and his wife Tiffany have created a unique sailboat business around good people sailing great boats across oceans and bays. On safe and sturdy boats, leading to more good memories.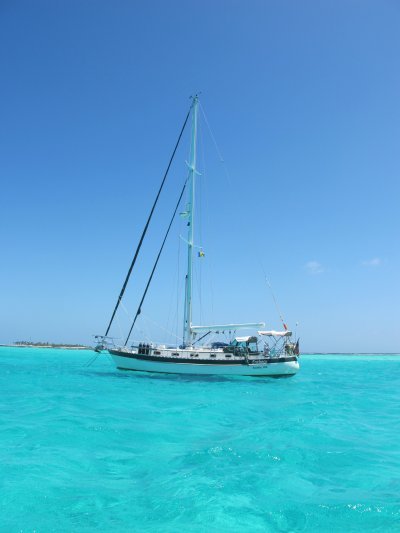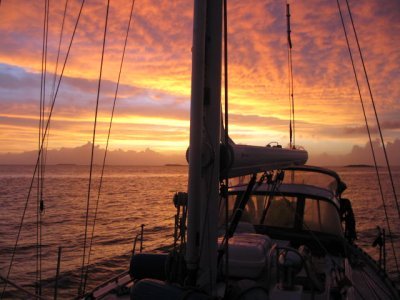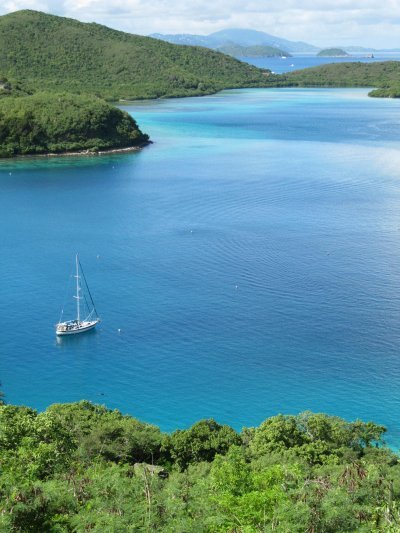 Hi Josh,
Over the last 9 months I've sailed more than 6000 miles, from the US to Grenada and back, in my Valiant 42. It's been the realization of a dream I've had since I was 18. My Valiant performed flawlessly throughout the trip, and I have nothing but praise for the quality of the construction and materials. I sailed in the Caribbean 1500 last year and we encountered very strong winds and heavy seas for 8 days. Many of the other yachts in the rally suffered damage, but my Valiant came through with only one minor electrical problem. I feel this is a testament to the true seaworthiness of Valiant yachts.
I also wanted to thank you for your prompt help in answering several questions about the history of my boat. Your fast response helped me resolve several questions quickly so I could continue cruising.
Paul H. – Valiant 42 "Entheos"
————————
Dear Joshua and/or Dear Danielle and/or Dear Tor,
Thank you again for all your efforts on my behalf in acquiring Rainbow. I have always been very satisfied with all the services that you performed and I will recommend you to all my boating friends who are looking for a yacht broker to buy or sell a boat.
Bob W.
————————
Impressed by the number of boats you found for me in your BoatSearch. Thanks for your good service.
Dr. John B.
————————
We contacted Anchor Yachts because Tor Pinney and Anchor Yachts came highly recommended!
Robert B.
————————-
Many thanks for your prompt responses. It is a pleasure to deal with a broker who actually wants to do business.
Murray B.
————————–
Your rapid response to any inquiry is a credit to both you personally and your dealership.
Bob S.
—————————
You impressed me as being an honest, hard worker with a good straight forward approach.
Tom E.
—————————
We want you to be our Broker. You've been more than considerate.
Michael A.
—————————
You're the best, buddy! You know how to find them and what your customers want. Keep up the GREAT work! Thank You.
Jim & Sunny, U.S.N. (ret.)
————————
Thank you for listing our boat. I checked out her web site and it looks great! Excellent write-up!
Courage W.
————————
You have been very professional and there is nothing more important in a situation like this than honesty. Many brokers don't have it. You do. We compliment your integrity.
Paul & Wendy C.
————————
Thanks for sticking with us during this long search. If you need a recommendation for someone else who also is in search of their dream, please have them contact us. I'm now convinced that the services of a good broker and a good surveyor in a purchase like this are necessary.
Alan C.
————————
Your website presentation of (our boat) looks and reads great!
Burt N.
————————
Thanks again for making this so easy.
Kathleen K.
————————
You are a professional. Thanks for being a part of my team.
James K.
————————
I would like to thank you for your professionalism in answering my enquiry so immediately. My experience, of late, with other Brokers is that some don't seem interested and others just don't reply. It is as if the bigger and more fanciful their ads, the less they care. So thank you.
John W.
————————
Thank you very much for your explicit review of what the purchase process entails. You will have to add me to your list of fans and I'll send you something suitable for quotation!
Katherine K.
————————
Thanks, you are by far the best broker I encountered.
Dennis O.
————————
Many thanks for your remarkably fast response. Amazing service – your reply arrived less than 8 minutes after I emailed you my query! And may I also congratulate you on providing remarkably detailed and comprehensive info on the boats you deal in, compared to other brokerages.
Trevor H.
————————
Thanks again for all your understanding and professional assistance, often well above and beyond the call of duty.
Shane G. & Meggi M.
————————
Thank you!!
K. Fleet
————————
Thanks for putting together the deal (on the sale of my boat). I'm sorry we did not get the opportunity to meet…in person, but the whole experience was very positive from my end. I appreciate your efforts and wish you much success in the future.
Robert M.
————————
I very much appreciate your professionalism and help, which far exceeded any of the other brokers I have worked with.
Elizabeth B.
————————
Thanks for taking the time (to help me consider all the angles). I really appreciate that.
Hans G.
————————
It's nice to know a yacht broker that actually knows sailboats and doesn't make attempts to drive the buyer higher and higher up the scale. Looking forward to meeting you and hopefully doing business.
Jim G.
————————
Thanks so much for all your help. This is proving to be a most pleasant experience!
Kenneth P.
————————
We are very pleased with the level of service you have provided from the day of the Newport Boat Show until the present. I wouldn't be surprised if you sell a Valiant 42 when your prospects see our new boat. You are free to use us as a reference both for Anchor Yachts and for Valiant Yachts.
Ron D.
————————
I spoke to a lot of brokers last year and you were the most agreeable to deal with.
Rob R.
————————
Your web site is very good. Easy to operate and informative. Good Job.
Bryan H.
————————
Wow, you're certainly "Johnny on the spot" with all of this (information). That's a very pleasant new environment in the yacht brokerage world.
Jay H.
————————
Thank you so much for your help. You are a first class pro.
Charles D.
————————
Anchor (Yacht & Ship Sales) has a great reputation. I'd like you to list my boat for sale.
Rob B.
————————
Kudo's to the team responsible for managing the site here. Very well constructed, and I should know first hand as I have spent the past week searching through various broker sites.
Matt C.
————————
You & your company at all times have made me feel comfortable that all best efforts to sell the my boat have been made. I am confident that Joshua will continue in the same manor.
Noah K
————————