What's your best yacht match?
We know buying a yacht isn't something done on a whim. In fact, we've found that choosing a yacht is much like finding your soulmate. You have to have compatible values, a similar lifestyle, and experience that spark of excitement for lasting love.
The 'dating' phase is an exciting but exhausting time for you to find the yacht of your dreams. It can be tough knowing where to begin choosing the right yacht for you. Check out these top four yacht brands to find the right match for you.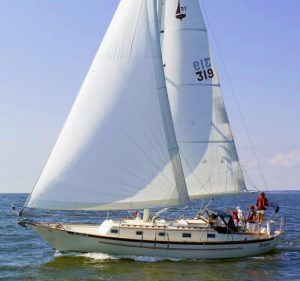 Pacific Seacraft
Pacific Seacraft yachts are a classic. Like a sweetheart with a love for old vinyl records, Pacific Seacraft is known for appreciating the way of the old craftsmen. This brand has been around for over 40 years, specializing in beautiful, traditional, and capable bluewater boats.
Pacific Seacraft is a yacht that's been around the block and is ready to settle down. It's a stable solid yacht that's will take care of you in all situations making for a positive experience for all aboard. Pacific Seacraft does everything in its power to fulfill those dreams in a fashion that exceeds expectations.
If you're looking for smooth sailing and a yacht that's ready to commit to 'I do,' a Pacific Seacraft is right for you.
---
Zeelander Yachts
If you prefer holding hands instead of getting serious, Zeelander might be the yacht for you. Zeelander Yachts focuses on comfort and gorgeous views with 360-degree panorama windows. It's perfect for boaters looking for an easygoing, quiet yacht with stunning good looks and features that everyone appreciates. In fact, the Zeelander Yacht is designed for minimal noise, helping you experience the awe and beauty of the ocean with zero distractions.
This yacht is low maintenance with synthetic wood finishes that stand up to the elements. You can clean the decking with a simple pressure wash as needed. A Zeelander Yacht won't insist on calling you every night; it's a carefree, fun yacht that just wants to have a good time with you.
Stay forever young and sail away on easy street with Zeelander Yachts.
---
Outbound Yachts
Are you looking for a match that makes you feel right at home, while still being capable of sailing anywhere in the world? If so, the Outbound yacht is the boat of your dreams.
Outbound Yachts are known for their sailing performance and liveaboard comfort. The cockpit is designed to be ergonomic and comfortable, whether you're taking her for a short sail or long voyage.
Outbounds come with more storage capacity. Where other boats have tanks, these have ample storage under the settees, while still having large fuel and water tanks below the cabin sole. They're also famously labeled the yacht with "the workshop" for their well thought out beautiful and spacious interior, with a place for everything (including your tools).
If you're looking for a luxurious and comfortable ocean capable yacht, check out an Outbound yacht.
---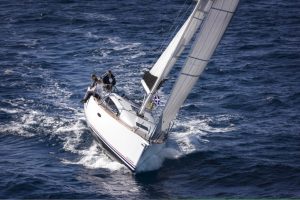 Delphia Yachts
Are you looking for comfort while exploring the vast unknown? If so, you need to check out a Delphia yacht. This yacht is a synergy between nautical architecture and traditional maritime craftsmanship. Much like finding a sweetheart who loves to travel, you'll share beautiful sights with a Delphia, no matter where in the world she takes you.
Delphia yachts spacious decks, and well thought out cockpit and interior provide comfort and sense of freedom to all aboard. These yachts have an elegant and modern design with a nice and cozy inside, convenient berths, spacious galley and many practical solutions make this boat feels like home even during the long journeys.
The bottom line
Buying a yacht is like finding your soulmate. There's a yacht out there for you; you just have to go out and find her. Reference this quick list to narrow down your search to sail off into the sunset with your perfect match.