What to know if you are considering buying a New or Used Luxury Yacht
In our years of experience with luxury yacht sales, we've seen people who strongly prefer to buy either a new or used yacht. But no matter if you lean towards buying new or used, there are a few things to consider when it comes to luxury yacht sales.
Here's what you should know if you're considering a new or used luxury yacht.
New yacht sales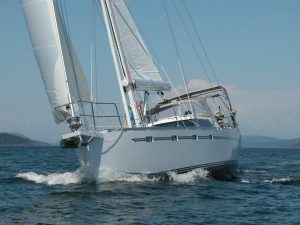 If you prefer to buy things new out of the box, a new yacht may be right for you. The benefit of buying a new yacht is that there aren't any surprises; you're the original owner and everything is pristine. But like any purchase, there are things to consider when buying a new luxury yacht.
Plan for storage
Yachts are rarely bought on a whim, but it's worth mentioning that you should have a plan for storage. Where will you keep your yacht?
It's a good idea to price out marina fees before buying a yacht. Once you've found a yacht that suits your needs, check the marina's depth to make sure the yacht's draft will fit.
Will you keep your yacht at a marina close by, or at one several hours away? One of the reasons Anchor Yachts is located in Rhode Island as there is no sales tax or property tax on boats, a number of our clients choose to keep their boat in Rhode Island to save money on taxes. Work out these factors to determine the real cost of yacht ownership, both in terms of money and time.
Get a broker and a surveyor
When it comes to luxury yacht sales, it's best to partner with a pro to get the best deal possible.
We recommend getting both a broker and a surveyor.
A broker, like Anchor Yachts, will advocate for you during the buying process and help you make the best purchase for your needs. A broker's experience will help save you time, money, and mistakes when purchasing a yacht.
A surveyor will inspect any yacht you'd like to purchase, ensuring it's up to standard, and making you aware of the true condition of the yacht. We recommend finding a surveyor with either a NAMS or SAMS certification.
Upkeep and maintenance
There are operating costs and maintenance for any yacht you buy, new or used. If you wish to reduce you initial maintenance that is required, a new yacht may be a better choice.
New yachts are in warranty in case any parts are defective, potentially saving you thousands in repairs. With a new yacht you only have to worry about routine maintenance to keep it running like a well-oiled machine.
Used yacht sales
Used yachts tend have lower listing prices, which means you could get more yacht for less money. It's important to remember all of the considerations of buying a yacht, like storage and getting a professional opinion, when buying used as well.
If you're in search of a used yacht, here are a few extra pointers.
Keep an eye on cost
Most people buy used to get a luxury yacht for less. While this is a great strategy to save money on the listing price, it may cost more money in the form of repairs, renovations, and upkeep.
When looking at used yacht for sale, make decisions on how you'll refit the yacht (if at all) before it even leaves the yard. Get estimates of all the work that you wish to have done to your yacht prior to committing to having the work done so there are less surprises when the bill arrives.
More detective work
Used yachts are a great way to purchase a quality yacht for less money. However, as with any pre-owned item, it's important to do your due diligence to check for issues.
The great thing about a used yacht is that it's already proven to be seaworthy. If it had a reputable former owner, any major issues should have already been addressed.
To research your used yacht, check the builder brand, check the maintenance log, and ask how it was used. You want to find a used yacht that was regularly sailed and maintained. When in doubt, arrange for a test sail and have a certified surveyor inspect the boat to make sure you get the best quality used yacht.
When it comes to used yacht sales and luxury brands, Anchor Yachts is here to make sure you get the best experience. Lean on our expertise to find the right yacht for you, we will save you time, money, and mistakes on your next yacht.